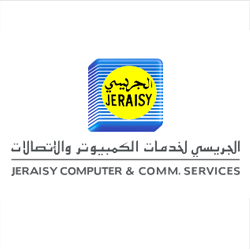 Jeraisy Computer & Communication Services (JCCS) is a full service information technology (IT) company that operates in the Kingdom of Saudi Arabia. JCCS helps organizations optimize their use of technology to achieve their business objectives and create shareholder value.
JCCS's professional services project teams have years of experience in information technology systems architecture, systems integration, application services, managed services, and hardware/software implementation. They work closely with their clients to consistently recommend solutions that meet their clients' evolving requirements, budgets and strategies. JCCS's approach to professional services and consulting is vendor-neutral, which allows them to provide unbiased recommendations, advice, and guidance.
JCCS has earned industry-recognized certifications for many of the major enterprise hardware manufacturers and software product vendors. JCCS also designs, builds, and operates complex computing and data center solutions. The company was established in 1977.
JCCS is part of the Jeraisy Group, a company with subsidiaries in a wide spectrum of industrial and commercial segments. The companies in the Jeraisy Group are:
 Riyadh House Company (RHC)
Jeraisy Computer & Communication Services Company (JCCS)
Jeraisy Electronic Services (Atheer & Tawaf)
Al-Areeba For Ladies Skills Center
Systems & Computer Services Center (HP Factory)
Jeraisy Computer Paper Products Co.
Jeraisy Group Card Tech Factory
Jeraisy Furniture Factory (JFF)
Steelcase Jeraisy Ltd
Al-Jeraisy Development Company Limited and its Subsidiary